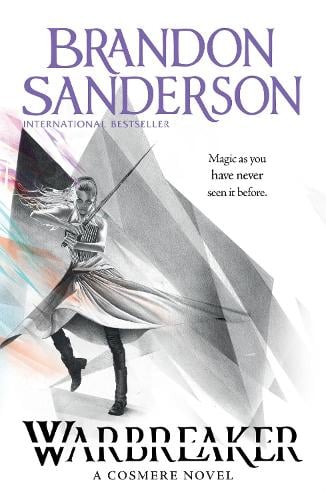 Author: Brandon Sanderson
Pages: 652
Star Rating: ✪✪✪✪✪
Synopsis
Warbreaker is the story of two sisters, who happen to be princesses, the God King one of them has to marry, the lesser god who doesn't like his job, and the immortal who's still trying to undo the mistakes he made hundreds of years ago.
Their world is one in which those who die in glory return as gods to live confined to a pantheon in Hallandren's capital city and where a power known as BioChromatic magic is based on an essence known as breath that can only be collected one unit at a time from individual people.
By using breath and drawing upon the color in everyday objects, all manner of miracles and mischief can be accomplished. It will take considerable quantities of each to resolve all the challenges facing Vivenna and Siri, princesses of Idris; Susebron the God King; Lightsong, reluctant god of bravery, and mysterious Vasher, the Warbreaker.
My thoughts
Once again I love the stories and worlds which Brandon Sanderson creates. He is definitely one of my favourite authors. Lightsong was a really interesting character. He was funny and added humour when the story was getting a little rougher.
Vivenna was a character I really liked, I found her growth from a spoiled rebellious girl to a mature adult. I loved all her parts in the story and was really invested in what happened to her. She took on her on role that she was thrown into when her father had a change of heart.
Siri was my least favourite character in the book, it is hard to explain how I felt about her, she seemed selfish with her actions, I understand her life was turned upside down but I think that she blindy went into things she should have been aware of due to her studies without thinking of the consequences.
overall I really enjoyed the book and the twists and turns that where thrown in there. Brandon Sanderson has such an amazing imagination. His magic systems are just not something I have ever seen before. They are so thought out and really well described and explained.
Have you read this book? what did you think? Let me know in the comments below.#
-Happy reading
XOXO